Does Unified Communications Really Improve Customer Experience?
By Liam Schraeder, Editor In Chief
We talk to a lot of businesses, all of whom are in various stages making plans to move to unified communications in the cloud. In the past, quality issues dogged the move to the cloud, mostly fueled by unstable broadband internet connectivity. With the emergence of SD-WAN (software defined wide area networking) and its ability to make best-effort access services more robust and reliable, the resistance to UCaaS adoption is quickly receding. Today, quality issues have taken a back seat as the primary reason businesses have chosen to stay with their on-premise UC technology. Now, there are many reasons to ditch the old phone system and move to the cloud, but the one driving UCaaS adoption is its ability to transform the customer experience.
UCaaS Value Proposition Varies by Company Size
A recent survey published by Frost & Sullivan shows that the main drivers to move to UCaaS vary by industry and organizational size. Exhibits 1 and 2 below show the opinions of 1,636 IT decision-makers:

As shown here, the number one reason for investing in UCaaS varies by company size. Smaller companies (under 99 employees) cite operational efficiency as their primary driver, while larger companies (over 100 employees) cited improving customer experience and satisfaction.
Technologies Driving the Change
But "Unified Communications as a Service" encompasses over eight different technologies, all of which enable companies to communicate with customers in different and unique ways well beyond standard phone calls. Text messaging (SMS), web chat, social media, video chat, and team rooms are quickly cutting into the legacy "customer service by phone call only" methodology.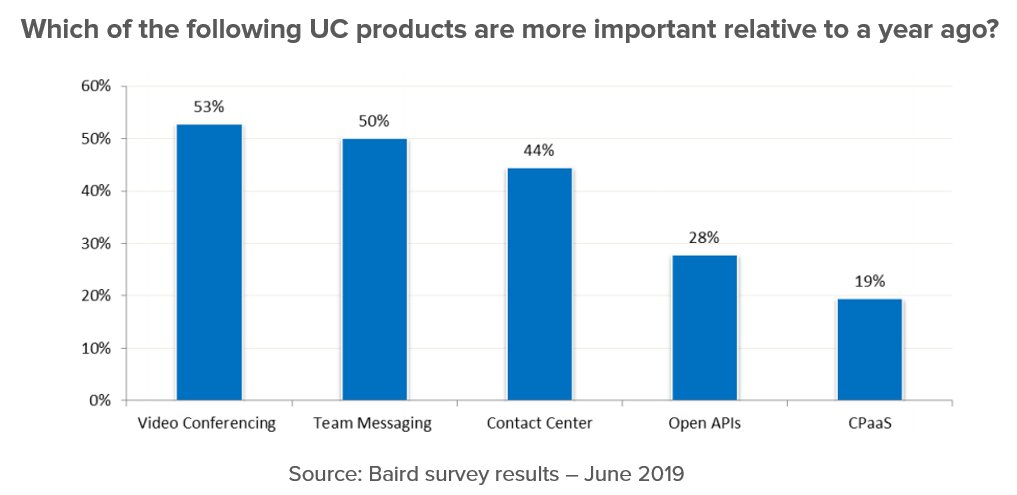 According to a June 2019 Baird survey, video conferencing and team messaging are now the top two features driving adoption of UCaaS. Ironically, these first two technologies more closely associated with operational efficiency, while contact center (third) and open APIs (fourth) are the more customer-facing enablement solutions. It's clear from this research that companies are finding real value in UCaaS's ability to help employees work as a team, regardless of geography. One company we recently surveyed added "video conferencing and teams have changed our business - with employees spread across three continents, the ability to see faces, body language, and easily share information and files in a format that is persistent, has been just as important as hiring the right talent."
UCaaS Vendors Leading the Way
In February 2020, the leading master agent of UCaaS services, Telarus, issued their 'state of the union' address where they shared their own data related to the sales of UCaaS vendors. The chart below shows how sales of their top ten UCaaS suppliers changed from 2018 to 2019: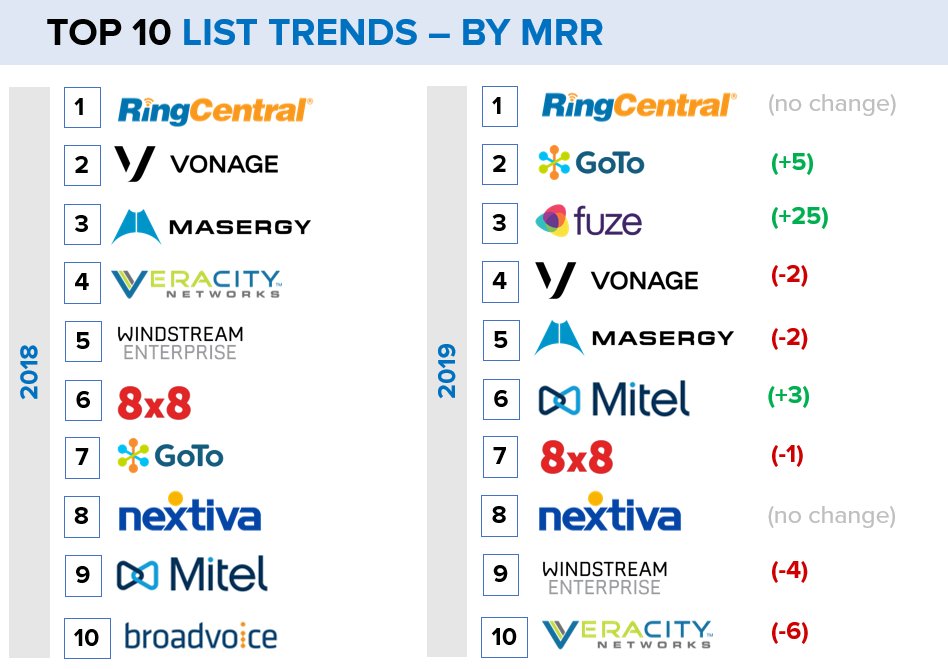 This revelation largely mirrors the findings in the 2019 Gartner Quadrant, where both RingCentral and Fuze find themselves in leading positions. Sales of 8x8 fell behind Vonage, Masergy, and Mitel, although they ranked very high on the Gartner Quadrant. When we contacted the master to inquire why there was such a disconnect between academia and the votes by customer's wallets, the master agent replied "8x8 is a great provider and we see them aggressively addressing their channel engagement policies and channel management, and expect their numbers to rise substantially in 2020."
The 'most improved' vendor, by far, is Fuze, who scored major points on the recent Gartner Quadrant and came from nowhere to reach the number three ranking in Telarus partner sales. We interviewed a Telarus sales partner, who wished to remain unnamed, who told us "Fuze has done an amazing job, plain and simple. Their product works well, is stable, and their sales process is very straight-forward. We expect more customers to select Fuze in 2020."
RingCentral maintained a firm hold on number one, proving that scale really does matter. Their stock price mirrors and supports the notion that RingCentral is the number one UCaaS provider by sales volume and market share. The recent partnership announced between RingCentral and Avaya has given it further momentum in the UCaaS space.
Factors in Making a UCaaS Decision
When businesses enter into the decision-making process, several factors - according to Telarus - must be taking into consideration:
Video Conferencing Capability

Teams

Contact Center Functionality

APIs (Clouds talking to other Clouds)

Contact Center Platform Integration

SMS Capability (Ability to interact with Millennials)

Physical Path of Traffic (International)

Overseas Deployment Capability

International Call Volume

White Glove Installation (On-Site vs. Drop-Ship)

Call Volume / Call Duration

Built-in CRM

Term / Commitment
These key drivers make selecting a vendor difficult. When we asked four top Telarus agents how they help their customers through this decision-making process, they all referenced a software tool created by their master agent which catalogued over 50 differentiators across over 35 different UCaaS vendors. They 'click' 'on the criteria that matters most for their customers, and the tool automatically eliminates the UCaaS suppliers that aren't a good fit. The great news is that all four Telarus sales partners don't charge their clients for their consulting advice.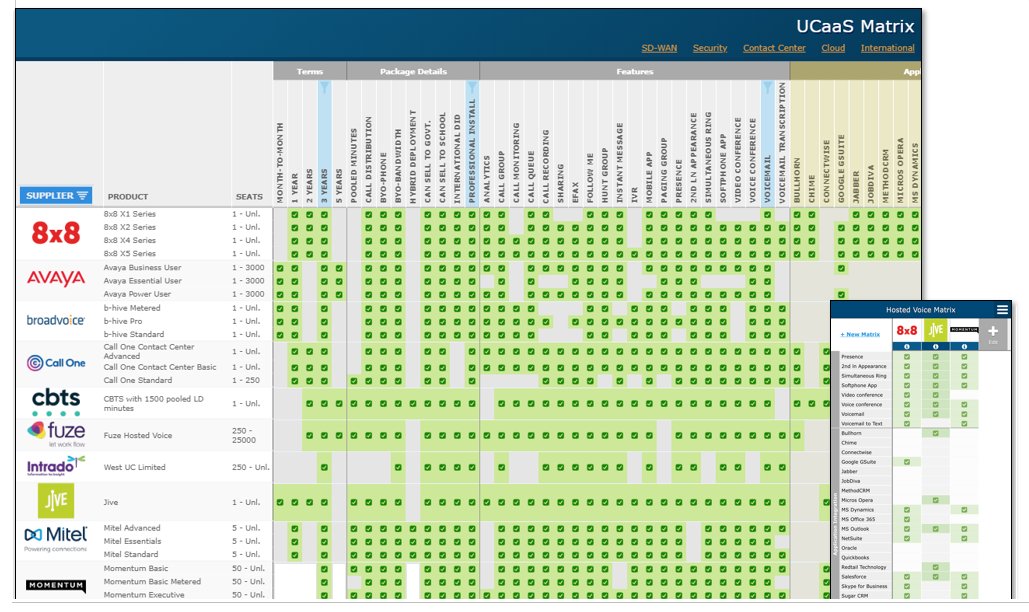 Want to Learn More?
If you would like to engage with a Trusted Advisor that can advise you on the topics covered in this article, give our technical help desk a call at +1 (888) 711-3656 and we'll put you in contact with a trusted independent technology specialist in your area.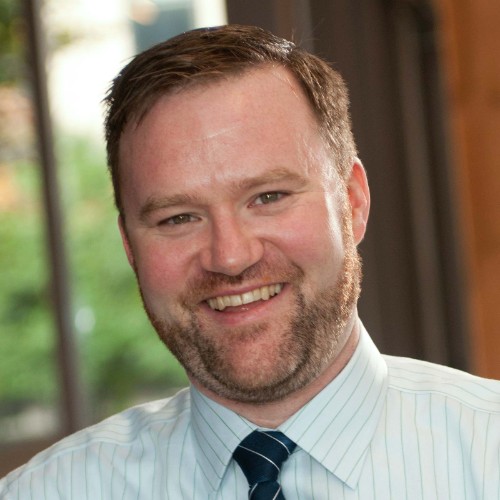 About the Author: Liam Schraeder is the Editor in Chief for BizPhonics.com. He covers all of the recent developments in cloud communications and collaboration. He's been all over the globe, attending conferences, talking to analysts, and measuring actual cloud utilization to piece together a comprehensive view of which service providers work best for which industries.